Digital Inspections
Food safety and public protection is vital, even more so during the response to COVID. With restrictions being varied over time, many food businesses remain open to the public, and others are rapidly altering their normal operations, including offering takeaway only services for the first time, potentially increasing the risks to food safety.
At the same time, and in accordance with advice from the Food Standards Agency (FSA), food regulators are currently cancelling many proactive face to face interventions to reduce the risks of COVID transfer for both visiting officers and food business employees.
As guided by the FSA, local authorities are investigating the options for remote intervention in appropriate food businesses using the latest technologies to provide assurance that food hygiene and safety standards are being maintained. This provides an opportunity to continue to carry out regulation in relevant food sectors, now under COVID, but also into the future to bring long term efficiencies. It is acknowledged that remote interventions will not be suitable in all circumstances, such as where higher risk arises, or where enforcement action is likely, and in these circumstances a formal visit will often be preferred.
Scores on the Doors (SOTD)
SOTD is an established and trusted platform and was the original website to publish food hygiene ratings on behalf of Local Authorities.
As such, SOTD already holds a number of key pieces of information relevant to local authority food interventions:
The mapping between the unique IDs used by every LA's food premises database and those allocated by FSA
Demographic data (Trading name, address, geolocation etc)
A history of all the previous food inspections and their outcomes
Capability to store data not held by FSA e.g. phone numbers, email addresses.
The platform has the capability to enable multiple intervention types in food businesses, from advice and support, through to various forms of official controls. We provide a secure (two factor authenticated) interface between LA's and food businesses via a simple one-time link. This enables businesses to upload their documentation with a full compliant audit trial.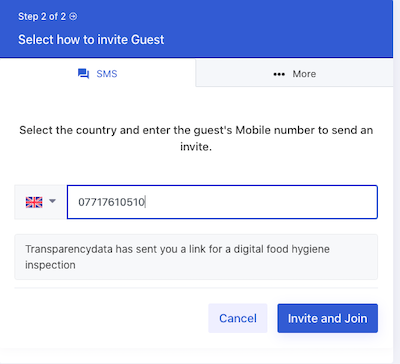 The platform has been developed to support Digital Interventions, enabling an inspector to securely:
Schedule food businesses for Digital Intervention
Invite FBOs (1) to participate in a Digital Intervention
Manage acceptance
Provide FBOs with information and support to enable them to prepare
Establish a video dialogue in a secure framework without software installation
Capture the entire intervention
Capture annotated photographic evidence
Issue recommendation letters
Remotely inspect rectification work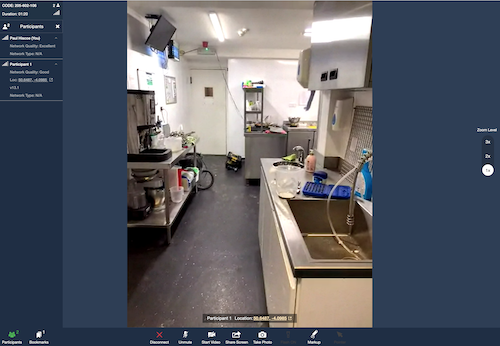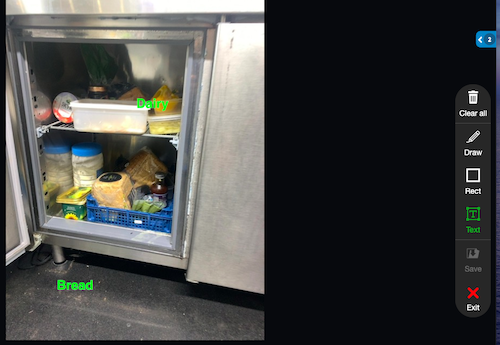 The SOTD platform offers the FBO:
The ability to accept the offer of the Digital Intervention
A free use of an app which provides the FSA's Safer Food Better Business pack digitally
The ability to securely upload documents, photographs
Participation in a video inspection without the need for software installation
The SOTD platform is entirely separate from the LA's back office system. Once the intervention and any rectification work are complete (with the necessary records being saved to the LA database digitally), all data is purged from the platform.
The potential savings
By offering remote support and regulation of food businesses digitally, significant financial and environmental savings can be made from a reduced number of face-to-face monitoring interventions and a paperless system.
The SOTD Digital Intervention platform allows regulators to continue to deliver appropriate interventions remotely, saving time and resources.
An average standard inspection costs the taxpayer around £150(2) . Across England, Wales and NI there are 534,000 food businesses. Not all will be inspected each year, but in 2018/19, 238,000 inspections took place, with 110,000 'other' interventions recorded (3). [As stated earlier, not all of these will be candidates for digital inspections]
Remote, Digital Intervention provides an effective regulatory tool during the COVID response and on into the future. It will save on travel time, and carbon footprint. It can provide all the required data in digital form which is then saved to back office systems paperlessly. There is no requirement for further scanning or photocopying, thereby reducing administration costs.
To find out more, contact us at Sales AT Transparencydata DOT co DOT uk
1. Food Business Operators
2. Based on the charge levied by Councils for Food Inspection Re-rating services.
3. (Source: FSA LAEMS 18/19).