Queens Arms Inn

Pub/bar/nightclub
Phone: 01228 56 22 83
Website: Click Here
Queen Arms Inn
Warwick On Eden
CA4 8PA
Queens Arms Inn was awarded a Food Hygiene Rating of 1 (Major Improvement Necessary) by Carlisle City Council on 7th December, 2016.
More information from...
Note: Links are generated automatically and the accuracy cannot be guaranteed.
Foursquare
Name:
The Queens
Statistics:
| | |
| --- | --- |
| Users | 27 |
| Checkins | 11 |
| Tips | 1 |
| Likes | 3 |
Links:
• Foursquare page (1 tip)

Venue Photos: (2 total)



TripAdvisor
Name:
The Queens
TripAdvisor Traveler Rating:
224 Reviews
Links:
• Photos
• Write a review
© TripAdvisor 2017
Is this your business?
Improve your listing for FREE
Add your photo to get a featured listing
Add your website
Add your phone number

Widget
You can display your most recent rating on your website - find out more.
Feedback
If you believe these details are incorrect, or you know of missing social media information, please provide feedback.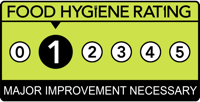 Food Standards Agency
Information last updated 21st September 2017.
What The Business Says:

Response by FBO: The kitchen at the Queens Arms Inn has undergone works to extend and enlarge to make management easier. The kitchen closed for a week to compete these works but unfortunately due to a delay to structural works, caused by the discovery of a rotten beam all works were not completed in time for re-opening, these works are now complete. But as the visit occured before the programme of works was completed, it has impacted on our rating negatively.