Peperone

72 Church Road
Manchester
M22 4NW
Peperone was awarded a Food Hygiene Rating of 1 (Major Improvement Necessary) by Manchester City Council on 5th June, 2019.
Is this your business?
Improve your listing for FREE
Add your photo to get a featured listing
Add your website
Add your phone number

Widget
You can display your most recent rating on your website - find out more.
Feedback
If you believe these details are incorrect, or you know of missing social media information, please provide feedback.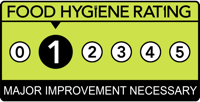 Food Standards Agency
Information last updated 17th July 2019.
What The Business Says:

I took over the business on 16th May and inspection took place on the 6th June, nearly 3 weeks after I took over the business.

As a new owner I had too many things on my plate such as transferring bills, licences, accounts etc. Sadly the sho was not in sound condition when I took over the business, However, in this short span of time  I have managed to provide a comprehensive list of ingredients and their allergens, dairy reviews, temperature control,etc.

Unfortunately,due to unforeseen circumstances I had to travel and could start other things such as re-surfacing kitchen tiles, moving around equipment etc.

The night before the inspection I took the folder upstairs to record freezer temperature but I forgot to take it back down stairs and that's why my staff could not find it on inspection day.

However, since I came back hygiene ha been improved, staff have been re-trained and kitchen has been resurfaced.

The premises has been thoroughly cleaned and procedures are in place to ensure that cleanliness is maintained. The staff have been trained, retrained, given instruction or are under revised supervisory arrangements.